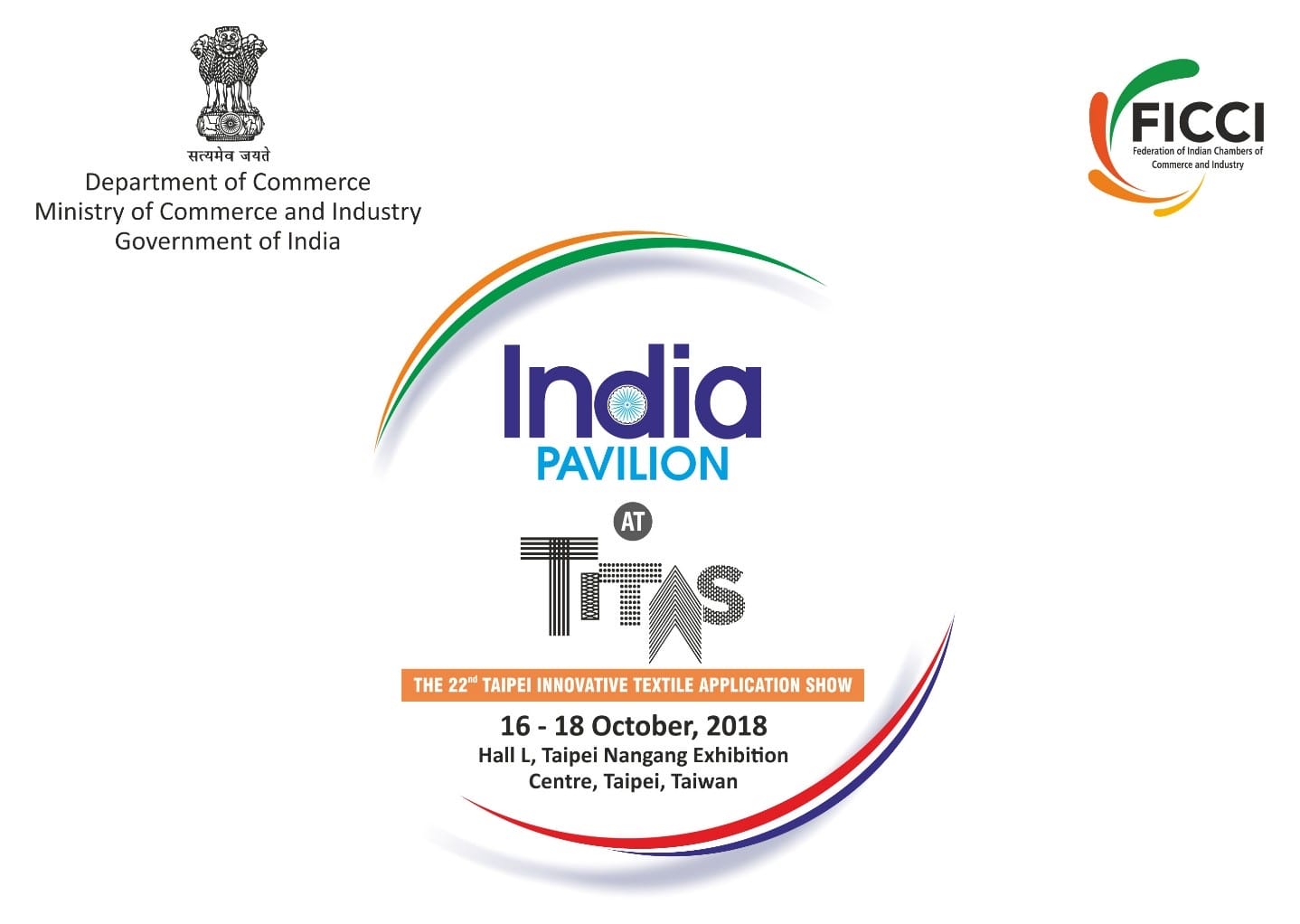 TITAS 2018 Exhibitor introduction - FICCI
FICCI
India Pavilion at TITAS (The 22nd Taipei Innovative Textile Application Show)
16-18 October, 2018 at Hall L, Taipei Nangang Exhibition Centre, Taipei, Taiwan
Federation of Indian Chambers of Commerce & Industry (FICCI) in partnership with the Department of Commerce, ministry of Commerce & Industry, Government of India is organising India Pavilion - showcasing the best of India in Fibres, Filament and Yarns, Fabrics, OEM/ODM Apparels, Trimming & Accessories , Textile related Technologies & Services.
We invite you to visit India Pavilion and meet the Indian Companies to explore potential business opportunities and take advantage of this unparalleled platform with the specific purpose of encouraging Exports, Imports, Investments & ease of doing business with India.
Indian Textile Industry
India's textiles sector is one of the oldest industries in Indian economy dating back several centuries. Even today, textiles sector is one of the largest contributors to India's exports with approximately 15% of total exports. The Indian textiles industry is extremely varied, with the hand-spun and hand-woven textiles sectors at one end of the spectrum, while the capital intensive sophisticated mills sector at the other end of the spectrum. The decentralised power looms/ hosiery and knitting sector form the largest component of the textiles sector. The Indian textile industry has the capacity to produce a wide variety of products suitable to different market segments, both within India and across the world.
Key Facts
·        The Indian Textile industry is one of the largest in the world with a large raw material base and manufacturing strength across the value chain
·        India is the largest producer and the second largest exporter of cotton in the world. India is also the leading consumer of cotton.
·        At 50% of world production, India is the largest producer of raw jute and jute goods in the world
·        India is also the second largest producer of silk in the world
·        The Mill sector, with 3,400 textile mills having installed capacity of more than 50 million spindles and 842,000 rotors is the second largest in the world
·        With 45 million people employed directly, the textile sector is one of the largest sources of employment generation in the country
Market Size
The Indian textiles industry, currently estimated at around US$ 120 billion, is expected to reach US$ 230 billion by 2020. The Indian Textile Industry contributes approximately 4 per cent to India's Gross Domestic Product (GDP), and 14 per cent to overall Index of Industrial Production (IIP).
The future for the Indian textile industry is promising, buoyed by both strong domestic consumption as well as export demand. With consumerism and disposable income on the rise, the retail sector has experienced a rapid growth in the past decade with the entry of several international players into the Indian market. The apparel market in India is estimated to grow at a Compound Annual Growth Rate (CAGR) of 11.8 per cent to reach US$ 180 billion by 2025.
MAJOR COMPANIES PARTICIPATING UNDER INDIA PAVILION AT TITAS-2018