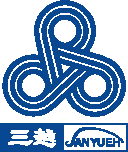 TITAS 2021 Exhibitor introduction - NAN PAO
NAN PAO RESINS CHEMICAL
SUSTAINABLE ECONOMY and INIFINITE CYCLE
"Sustainable economy and infinite cycle" should be introspected more under climate change and global warming.  By creating better products for the environment and society, and lowering the impact on environment, we integrate eco-friendly and sustainable actions into clothing, industrial textile and people's daily lives. 
Nanpao focuses on circular economy this year and display various kinds of non-toxic chemical.  There are humidity reactive PUR for textile lamination, water based and bio based PU with great water resistance, and non-hazardous PFC-free water repellent for textile treatment.  There is even an active area for visitor to experience the application of non-toxic chemical in daily life. 
Nanpao runs this business for over 60 years, keeping providing innovated and excellent service to customer.  In addition to continuously invest in research and development, also commit to ESG policy implementation.  The company has supported the growth of employee and their family, believing that the society is like an earth to nourish and a ground to grow the company.  Achieve the harmony between company and environment, and move toward to the sustainable management.
NANPAO RESINS sincere invite your visit on TITAS 2021.